Fiesta, Fiesta, Fiesta!!!
Trip Start
May 07, 2003
1
3
65
Trip End
Sep 05, 2005
Loading Map
Still in Mexico City. Finding it hard to get outta here. The last few days have been quality, went to a place called
Xochimilco
, where the Aztecs planted floating flower gardens 100s of years ago for the elite, they grew roots and now there is a network of lovely canals round the flowery islands. You can hire a multicoloured, lavishly decorated gondola
along with hundreds of other Mexicans who party all day, singing and dancing. They are so warm and friendly, love a good laugh and drinking copious amounts of Tequila! We got dragged over onto two or three other boats and ended up floating about, jumping from one party to the next. Every time our boat turned for home, we'd jump on the next gondola heading up river.
That night we were invited to this Mexican rich kids leaving do on the roof of this super cool modern art museum overlooking the enormous Zocalo.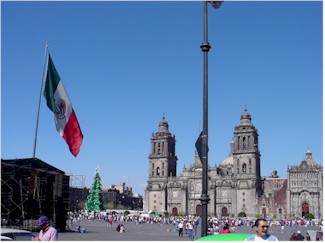 It was free in and when we went to hand the money over for a few bevvies, the muchacho said "donations only" - free bar - unbeleivable!! We all got feckin' hammered on copious amounts of free Tequila and tasty Mexican beer. Again, they are so generous and friendly, I'll be sad to go. The outstanding observations of Mexico so far, are copious amounts of Tequila, the most welcoming people I've ever met and the ladies definitely not being the shyiest. Sweet as :)
Managed to get to a football match at the Estadio Azul,
Cruz Azul
v Jaguares, the team from the Azteca was unfortunately playing away. Great atmosphere - drums & sirens, lots of singing, and lovely cheerleaders, anything they could make the most noise with!
Having the time of my life as you probably guessed! I hope the rest of Mexico is as good as this. The Mexicanos say "if it happens in Mexico, it happens in Mexico City" so it's looking good....
Buenos Dias,